Expressing yourself, your business and esthetic successfully within the confines of your suite requires 3 things, a big picture idea, consistency and a focus on detail.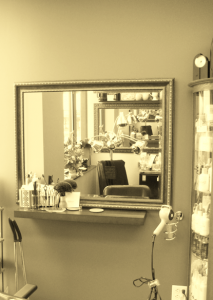 Feminine, Funky or Tranquil are terms that reflect the big picture. What is the first impression you desire when entering your suite? The list is endless but does not have to be overwhelming. Thoughtfully starting with the big picture creates a winning look in the end. Thankfully we can use Pinterest to create an idea board of interiors, colors and textures. Create a big list of stuff that you really find that you love. Then on another day and time, edit. Focus your list down to a distinct look. Do you still love it? If yes, you may have that winning look that you can love to work in.
Company name, logo design, color,  a signature focal piece all reinforce your big picture design idea. Be consistent with style, color and attitude of everything in your space. Color and texture can overwhelmingly deliver the impact of your style. Try using 12×12 paint color boards before saying yes to that color off a 1/2 inch by 2 inch square paint chip. Painted walls reflect off each other and the available light and mirrors in your suite, delivering a different feel than perhaps you imagine. Make sure these colors enhance skin and hair tone, exposing a happy beautiful client. Being successful here will create an environment you can be proud to call your own.
Details go along way in remaining consistent. Editing things down sometimes deliver a bigger impact, than just more stuff. Artfully arranged and displayed retail is a design element you can use to reinforce your esthetic. Wall decor, furniture, artfully arranged tools of the trade are details to keep an eye on. Do they enhance your big picture? In the end, what you are doing is creating a space that is pleasing, put together and smart. Consistent details go a long way in delivering a real environment that reflect highly on the savvy suite owner's business.
What is your favorite design tip or muse? Share your comments below.